Meet Dr. Ernie Soto
Dentist in Plantation, FL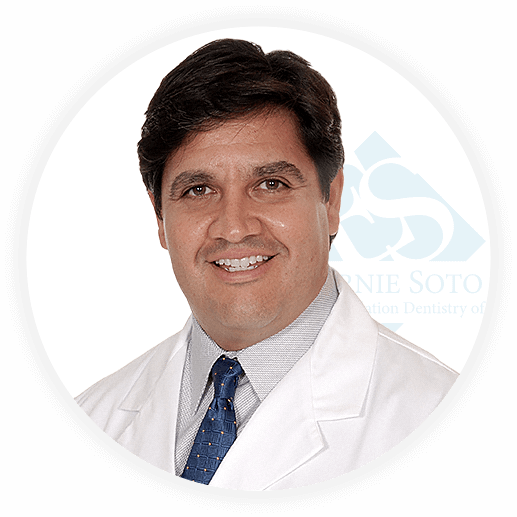 Dr. Ernie Soto is a reconstructive dentist who received his undergraduate degree from Creighton University and his Doctor of Dental Surgery degree from Georgetown University's School of Dentistry. He completed a general practice residency at Mt. Sinai Hospital in Miami Beach, Florida and has been practicing dentistry in South Florida since 1990. Dr. Soto's expertise in his field is diverse with Dr. Soto routinely performing oral surgical procedures, implant and cosmetic dentistry.
Dr. Soto belongs to the International Congress of Oral Implantology, American College of Oral Implantology, American Society of Osseointegration, American Orthodontic Society, Florida Dental Society of Anesthesiology, and the American Dental Society of Anesthesiology. Dr. Soto is certified in Nitrous Oxide Sedation and IV Sedation and is one of a limited number of dentists licensed by the State of Florida to provide anesthesia. Dr. Soto instructs other dentists on state-of-the-art techniques, such as CT scans for virtual surgical procedures, 3D surgical planning, and computer-aided surgical guides. Dr. Soto is included in the Examiner/Consultant pool for the Florida Dental and Dental Hygiene Licensure Examinations.
Dr. Soto has been the recipient of industry awards including Align Technology Inc.'s Invisalign Innovator Award and he has written numerous articles for Senior Life magazine. He also serves as an adviser to iHealthSpot, Inc. a leading provider of websites and patient education to dental and orthodontic practices nationwide.
For Comprehensive Dental Care Contact Dr. Soto Today!
Dr. Soto offers a complete range of dental services — integrating state-of-the-art techniques with proven traditional methods of treatment. Dr. Soto and his team are continuously learning new techniques for the best results. Most importantly, Dr. Soto genuinely listens to your concerns and provides personalized care for your specific needs.